Case in numbers
13
Participants in all 5 group meetings
415
Completed activities and tasks
100%
Usefulness of meetings, activities and tasks
The challenges
Základná Škola Park Angelinum is an elementary school in the city of Košice, Slovakia. The school provides education for students from 1st to 9th grade and focuses on a well-rounded education that includes both academic and extracurricular activities. It is an amazing school with a great leader and a whole team of teachers who do amazing work together.
Challenges addressed by the leader prior to the program:
Bringing a coaching culture to the school
Introducing a culture of growth for the team and using Gallup language
Developing individuals and teams based on their Clifton strengths
Increasing individual team members' interest in collaborations
A deeper knowledge of other team members
An active participation in group meetings and more open two-way communication
Well-being (to prevent burnout)
The process: realization of the vision with e2grow's High Performing Team program
The first carefully crafted and validated e2grow High Performing Team program consisted of individual coaching sessions and collaborative group meetings. Throughout the program, all 13 participants, with the principal at the helm, used an e2grow online platform where all participants had regular activities or tasks before and after the meetings through which we reinforced the building of new habits.
The principal had two individual coaching sessions. The first one was focused on the development of principal's individual talents, specifying the vision for the team, preparing the Kick off meeting with the team, defining the goal of the program and the steps needed to achieve the goals.
The second session was focused on reflecting on the changes and improvements made by the team, linking these improvements to specific habits and defining the next steps to the future. Each participant in the program received one individual consultation, which focused on a deeper understanding of their talent profile with practical examples and tips on their development and daily use.
All 13 of team members were all actively engaged in five team coaching sessions:
Kick off was focused on connecting the whole team to the vision, setting personal and team goals, presenting the agenda and the steps needed to successfully get to the goal.
'Being your best' and 'Recognizing best in others' was focused on deepening individual and team talents, how to practically use strengths and manage weaknesses to achieve goals and also practicing recognizing talents in colleagues and valuing them.
Aligning team members and CoffeeSync was focused on talking about things that they don't usually talk about – what everyone brings to the team and also what frustrates everyone. practicing CoffeeSync, it is a specific conversation two colleagues about how we can work better together and say even difficult things to each other.
Team session was focused on introducing the tools of AIM and REFLECTION, where they practiced how to set a goal, and discussing about the importance of reflection and how to ensure a continuous improvement.
Celebrating High Performing Team and Going Forward was focused at celebrating changes and improvements they have made both individually and as a whole team, followed by introduction of the tool Team Progress - how to do a team meeting for greater alignment, setting priorities, continuously improving communication and collaboration. The meeting was ended by defining the steps that need to be taken further to strengthen the new habits so that the changes are sustainable in the long term.
The results
The evaluation of the program showed the following results:
The school increased number of new students registered to the highest number in recent history.
They set key indicators / KPI for future development. The program brought growth perspective to the school.
Increased interest of individual team members in cooperation.
A deeper understanding of the strengths and weaknesses of individuals and each other; they are also very aware of how talents can be practically used and developed in day-to-day life for achieving goals and maintaining overall well-being.
An active participation in group meetings and more open mutual communication.
Completion of the first High Performing Team program resulted in effective team with increased interest among individual team members in working together, deeper knowledge of each other's talents, strengths, and weaknesses, more active participation in group meetings, and more open two-way communication among them. Recognizing the importance of giving and listening to constructive feedback to help each individual grow made them a more open-minded community with a growth mindset.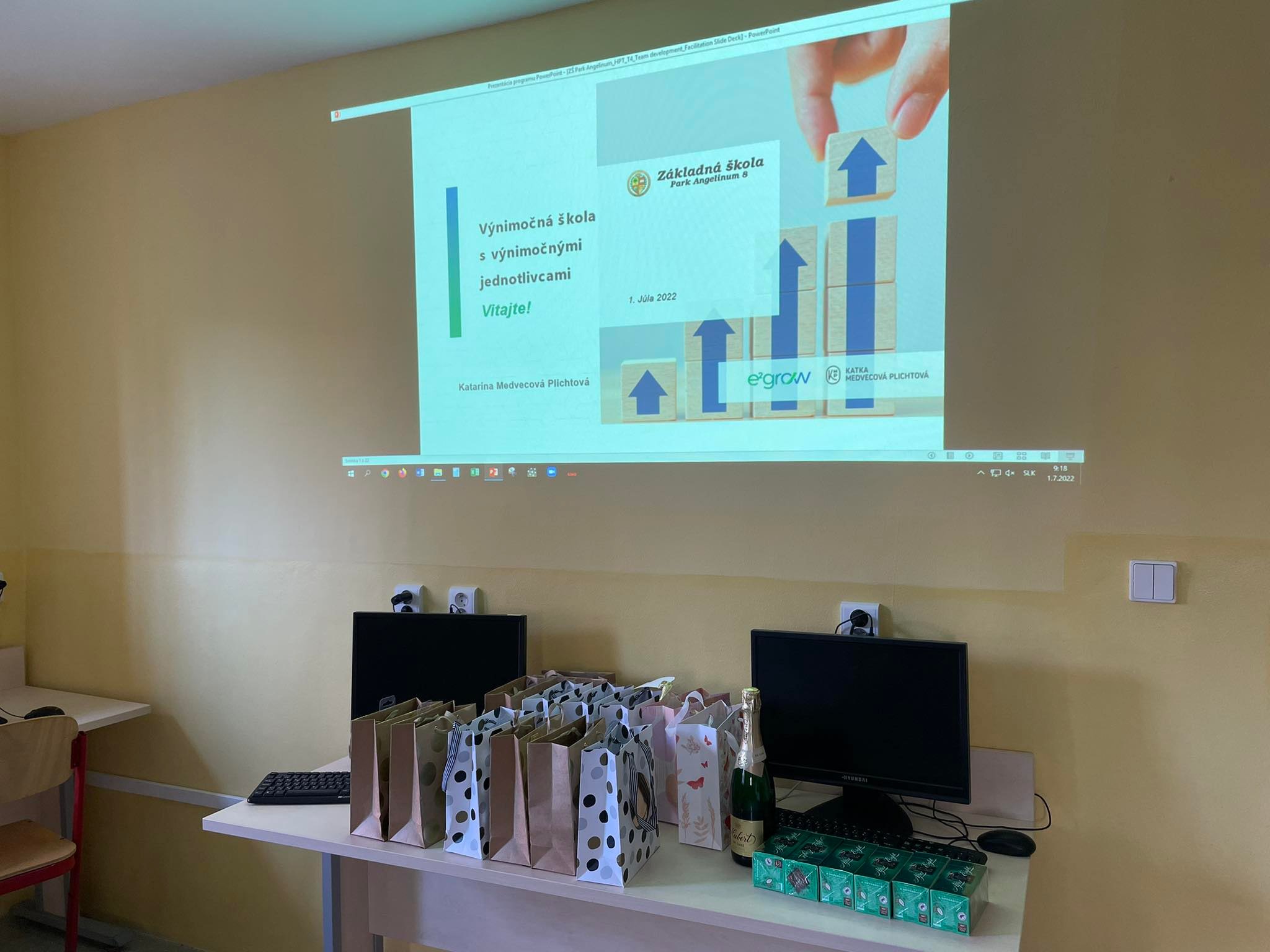 Testimonials
I realized that talents really influence my actions and attitudes. But also, that with them I can learn to work with. The workshop was interesting to see that although we share some talents in common, in the context with other talents, we are each different.
Realizing how important it is to value people and make them feel that everyone is important and only by sharing by working together and using our talents we will move forward.
To do a retrospective reflection of goals accomplished and evaluate which talents helped me, and which hindered me - which is an important step in becoming aware of the impact of my talents on my growth - so that I know to move forward and channel them.
Awareness of the impact of my talents on me, and how they can help me in my growth. Awareness of, why some things bother me more, why I am more sensitive to them. Why sometimes I don't understand that others can't do things the way I want them to be done and therefore that I need to change in my case approach to these people.
---
---